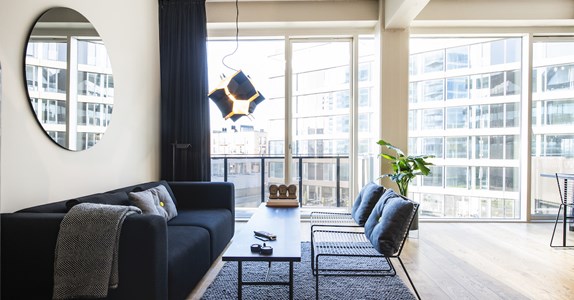 Fritidsjob søges til Into this Place- Cph Hotel Apartments ApS
OM ARBEJDSPLADSEN
Please visit: WWW.INTOTHISPLACE.COM We believe that travellers look for unique accommodations and desire to experience the city as a local with the locals. They want their stay to be easy, affordable and personal. That is why we decorate unique and personal hotel apartments on exceptional locations in Copenhagen. We named our service "invisible" since we try to do as much as possible behind the scenes. We constantly try to predict guests needs before they emerge by listening to feedback and by using the best and newest tech solutions. We are fast movers and plan to develop and grow. We are driven, flexible and prefer not to be in the same space for too long which is why we do not have a fixed office space. We aim to keep our team strong, savvy and lean and do believe 100% in freedom within responsibility.
OM JOBBET
Elevens arbejde
● Do you like things neat and tidy and have an eye for details? ● Are you super serviceminded and do you thrive in providing a good experience and help travellers from all around the world? ● Are you looking for a weekend job with flexible work hours and do you enjoy planning your daily functions yourself? ● Do you want to work in a startup with tons of influence and responsibility, where you will have the chance to experience and gain hands-on knowledge in day-to-day operations? If that's a yes to all you could be Into This Place' new weekend service genius & supervisor with the responsibility of currently 50+ hotel apartments in Copenhagen. You will be referring to our Operations manager Nelli. The job is Part time and takes place mainly during weekends. ESSENTIAL FUNCTIONS -1 to 5 hours of Inspections of apartments after cleaning during saturday and sunday -Being in daily contact and coordinating with the cleaning team -Communication and coordination with the service and communications team -Urgent problem solving when needed -Monitoring and taking care of bookings from various platforms -Communicating with guests
Forventninger til eleven
-Live in Copenhagen and have a good knowledge of the city -You speak and write fluent english (other languages are an advantage) -It\'s primarily a weekend job so you are available and free to work during weekends. -You are smiling, open and happy to help others. -You are flexible and not afraid to take on various tasks and coordinate in various situations -You are able to plan your own work schedule -You are used to working with different IT solutions. -Ready to begin work as soon as possible
VI TILBYDER
-You will work in a place where you will have the opportunity to be part of the daily operations and gain a lot of experience. -You will be able to plan your own days and be flexible. -You will have the chance to work with and coordinate different teams.
KONTAKT OG ANSØGNINGSFRIST
Hvis du er interesseret, så klik på 'søg stillingen' nederst for at sende din ansøgning. Hvis du har spørgsmål, er du velkommen til at kontakte os.
Kontaktperson
Nelli Horvath- Operations manager
job@intothisplace.com
Tlf.: 71747428
Addresse
Into this Place- Cph Hotel Apartments ApS
Dahlerupsgade 3 1603 København
Ansøgningsfrist:
15-06-2022